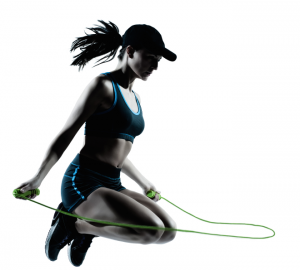 The advantage of rope skipping is that it is an activity that does wonders for our cardiovascular system and tones all our muscle groups without any exception at the same time. Moreover it is a cheap sport, all your need is a length of rope and even a real pro piece of equipment is really affordable. Jumping for several minutes helps strengthen our skeleton and preserve bone density making this activity a real all round winner.
Last but not least, it is FUN and children love it too, so you can make it a family activity to enjoy together!
No need to restrict yourself to home or gym routines. You can take your rope to the garden, the park, the beach or any other place, even a parking lot for a quick workout on a long car journey!
Rope skipping plan – 10 minutes
1 min: jump on both feet the classic way, nice and easy to warm up and raise your heart rate
4 min : same technique increasing the pace, you should be getting out of breath now.
1 min: plank pose. Set the rope aside, and hold the plank pose with abs engaged and back straight)
2 min: jump on one foot. Alternate 15 seconds on each side (15 sec on the right, 15 sec, on the left, back on the right, etc for a minute). Try to change feet elegantly and avoid having to stop skipping.
1 min: 1 min plank pose again.
1 min alternate single food jumping ( otherwise known as the "boxer" skip)
Cool off with a 5 minute walk. Stretch.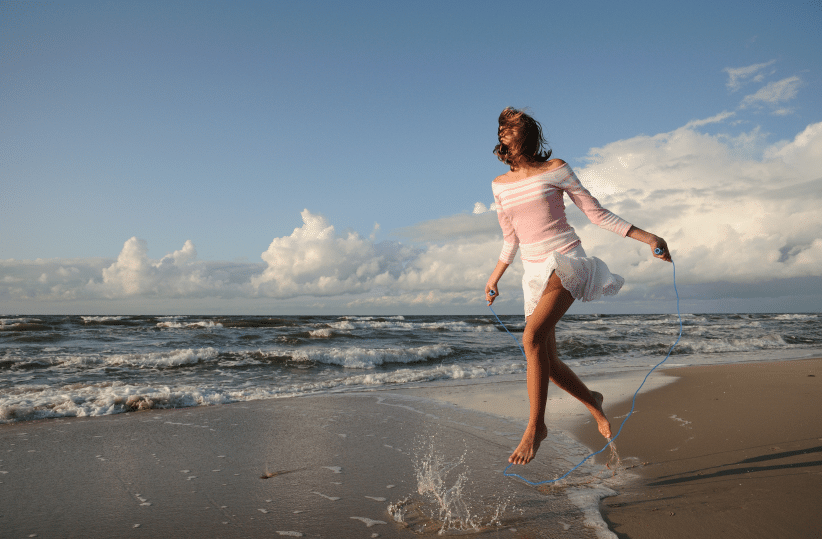 Restrictions and limitations: if you suffer from back problems, joint problems, or any other injury or health issue that may cause concern, always check with your physician before engaging in a new physical activity!